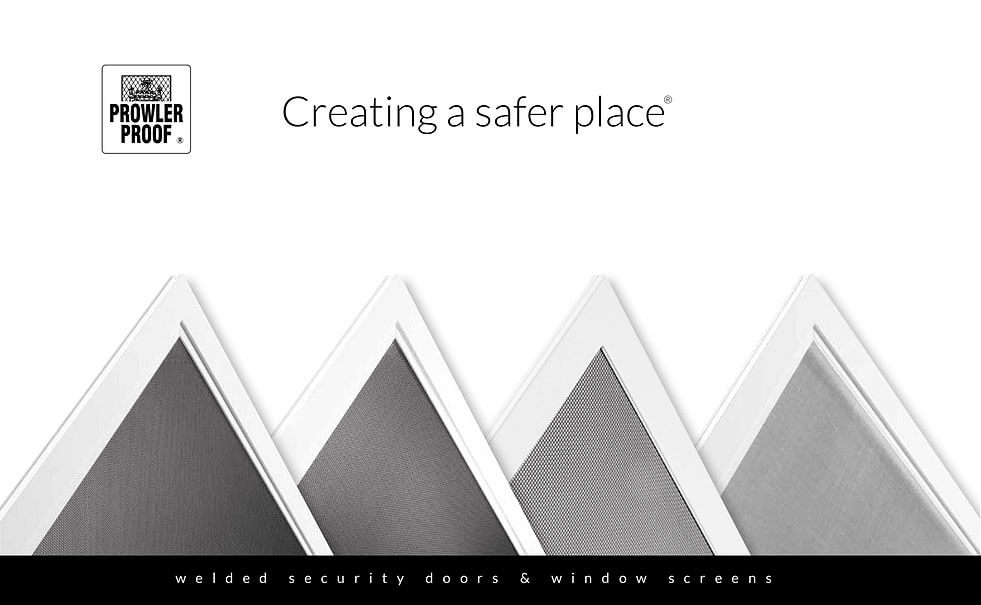 Prowler Proof security doors and security window screens are the only security screens in Australia with sleek welded corners, and when partnered with our unique Hidden Installation Technology (H.I.T.), you get not only the strongest performing, but also the best looking security screens available.
All Prowler Proof security screens are manufactured in our audited, fully automated world class factory, delivered to you in the industry's shortest lead time, and backed by Australia's only 10 year full replacement warranty.
When you choose Prowler Proof security screens, you know you've made the right choice in 'creating a safer place' for your family.

WARRANTY
You are extremely unlikely to ever need the Prowler Proof warranty. But if you do, we'd like you to know that you can count on it. We regard a warranty claim as an opportunity to improve our products and to ensure that no Prowler Proof customer is left behind.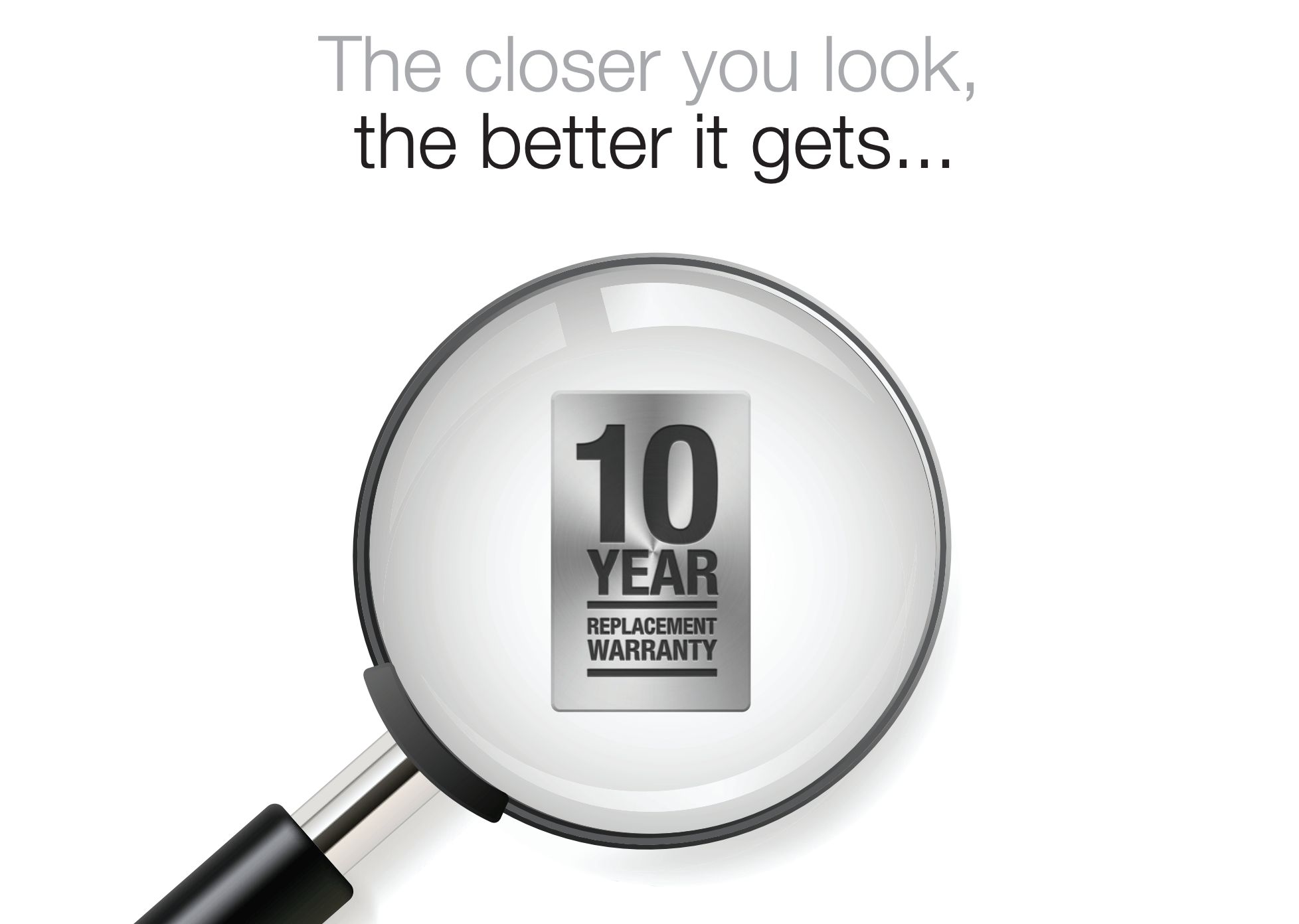 Prowler Proof welcomes warranty claims because they give us a chance to improve our products and the relationship with our customers. We invite you to have a really good look at our warranty – it's full of pleasant surprises…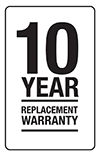 YOU GET A BRAND
NEW PRODUCT
The Prowler Proof warranty is Australia's only replacement warranty. Instead of a repair job, you will get a brand new product.
YOU DON'T HAVE
TO DO A THING
The moment your Prowler Proof product leaves our factory, you're covered by the warranty. You don't even need to keep your receipt – all products have a serial number that we can track in our system.
It's easy to claim. Use the online claim form on our website and we'll respond by the next business day, if not before. Or contact the dealer who installed your Prowler Proof product.
Prowler Proof products are made to last. We expect you to look after your Prowler Proof product like you would any other major investment, but we have no rigorous cleaning schedules laid out.
SECURITY SCREENS BRISBANE
Improve Your Home's Exterior with Quality Security Screens in Brisbane
Our can-do attitude at Security Screens QLD will take care of all your needs for security screens in Brisbane. As a reputable provider in the security screen industry, we offer a wide range of quality exterior screens. We can also take care of your indoor needs with our range of blinds and shutters.
Benefits of Aluminium Screens in Brisbane
There are several reasons why you would want to install exterior security screens in Brisbane. Have a look at these benefits that the screens will bring to your life and how it can increase the value of your property.
The most common reason most people ask us for a free quotation on such an installation is to increase the security of their homes. Your home should always be a place where you can feel secure but not trapped. Our range of Prowler Proof screens in Brisbane delivers on both these requirements.
While most clients prefer the screen to keep criminal elements out of their home, there is also another group who are more interested in an effective solution to keep a different kind of intruder outside with our insect screens in Brisbane. Especially during the warmer summer months, it can be challenging to get a peaceful night's rest while mosquitoes and other insects are buzzing around your head or ankles. The mesh which we use for our fly screens in Brisbane allows ample circulation of air to let the breeze in, while keeping all pesky bugs outside.
Although you'll still be able to see from the inside out, the mesh we use for our in-house security screen in Brisbane is rather dark and does obscure viewing from the outside. The result is that many do enjoy the privacy features these screens offer, while still being able to enjoy the natural beauty and the views surrounding their home.
After installing quality stainless steel screens in Brisbane, you have the freedom to leave your doors and windows open to allow natural airflow through your home. Simply by relying on the cooling breeze to cool down your home, you can enjoy massive savings on your monthly utility bill as well due to reduced electricity usage.
You can give your home's exterior a revamp when you install quality security screens. These can enhance the existing features of your home. We offer a range of colour swatches to help you find the perfect shade for your screens, which will either complement your current colour scheme or can alternatively create contrast for a more dramatic effect.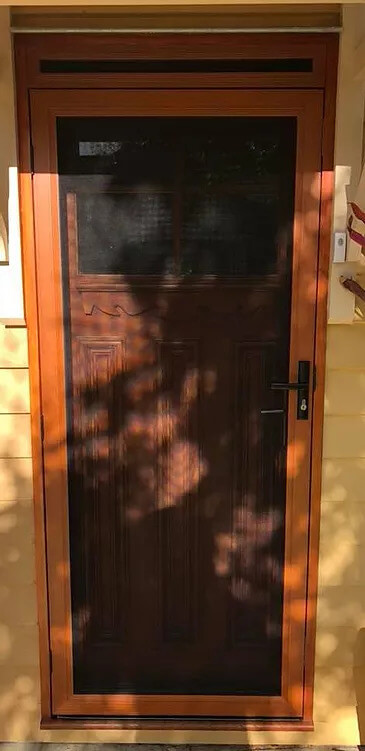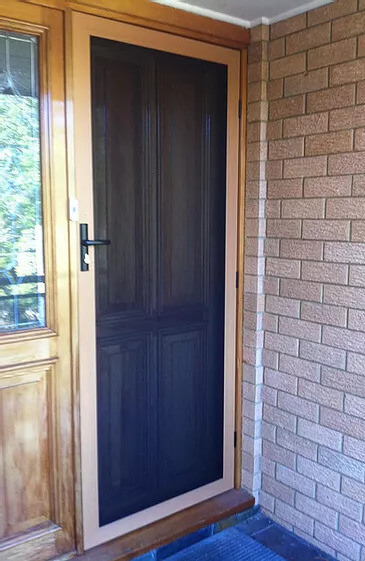 Related Services We Provide to Prowler Proof Security Screens in Brisbane
The Prowler Proof brand is a name we are proud to stock. No one can deny the outstanding quality you can expect from this leading Australian manufacturer of security screens.
Prowler Proof is, however, not the only quality option we have for you. We also have an independent manufacturing facility where we manufacture a range of effective quality solutions for your home. For our in-house brand, you are looking at a different price structure. Both are of excellent quality, and the variety will give you the freedom to find an option that best suits your budget.
When you opt for our in-house manufactured screens, you also have the option of a wooden finish for aluminium doors. The specific finish is a popular choice as we can match the grain and tone of the finish you choose to match the style of your existing wooden doors and features.
Another service we offer is to care for your indoor window covers. We do have a local manufacturing facility where we produce a wide range of blinds and shutters according to your specifications. This part of the business is backed by more than two decades in the industry, and you can trust in outstanding quality and durability.
Why Security Screens QLD is Cost-Effective
Our business has been around for six years. When we opened our doors, we came from a background of more than a decade in the glass, glazing and aluminium industry. During this time, it became evident that many people want to invest in making improvements to their homes, but the cost of such improvements was making it merely impossible for them to proceed. When we started our business, one of our goals was to always provide quality products and outstanding workmanship at affordable prices. The best way to bring down cost was to start manufacturing our in-house product range. This way, we could keep costs low without losing out on quality. Over recent years the interest in our in-house range grew tremendously, and now we have a range of screen designs you can choose from for your home.Do you want to enhance the features of your home and enjoy the numerous benefits that come with security screens? Contact us, and let's find you the perfect solution.