SECURITY SCREENS BRISBANE
A Variety of Colour Options for Your Security Screen Doors in Brisbane
At
Security Screens QLD
we offer an array of colour choices and finishes for your security screen doors in Brisbane, to give your installation a bespoke feel. The range of options we offer when you invest in security screens for doors gives you the freedom to have your screen doors blend in with your existing exterior or to enhance certain features with a bit of contrast or complementing colours.

What You Can Expect from Security Screens QLD As Security Door Manufacturers in Brisbane
We offer a range of solutions and tailored features when you are shopping for the perfect screen door in Brisbane to complement your home, provide safety and comes with the additional benefit of affordability.
First and foremost, we have to mention that we are proud suppliers of the reputable Prowler Proof Brand. Prowler Proof is a leading name in the industry of steel security doors in Brisbane. The Australian-manufactured brand has a reputation for strength and durability. Coupled with the aesthetic appeal of the Prowler Proof design, you can enjoy all the benefits of Australia's leading brand when it comes to secure door screens. A brand which comes with quality guaranteed commitment from Prowler Proof in the form of their ten-year full replacement warranty.
Yet, we are not only agents to the trusted Prowler Proof brand, but also have a very efficient and manufacturing side to our business. As a local manufacturer of door security screens in Brisbane, we can deliver exceptional quality without the hefty price tag one would expect of premium products.
The ability to manufacture our in-house ranges gives us the freedom to deliver on several door designs. The variety we have to offer allows us to deliver on exactly the solution you need for your home.
The range of designs we cover includes screens for hinged doors, multi-fold doors, sliding doors as well as for windows and fire escape window systems. Yet, if none of these will suffice in answering to your needs, speak to our team, and we'll find a bespoke solution to give you precisely what you want.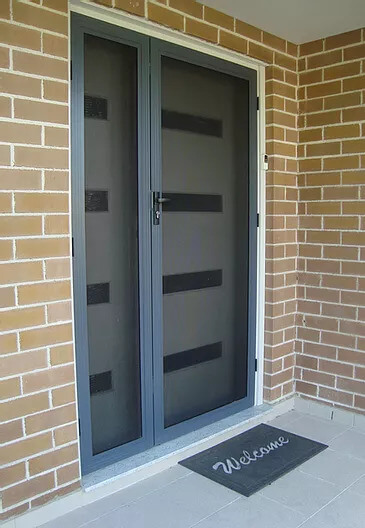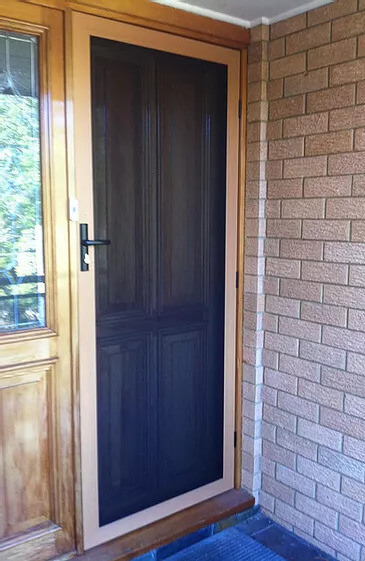 You have the option to opt for a wooden finish on all our aluminium doors. A wooden finish on fly screen doors in Brisbane is often the preferred choice as the wooden surface is far less visible against the grain of the existing door. Once again, the possibility does exist to play around with various wood tones and grains to find an option which best suits your current outdoor features.
As part of our comprehensive range of solutions, we offer several types of mesh. You have the liberty to select a mesh which will best complement your final product. Screenguard provides the strength and durability of stainless steel and is suitable for both windows and doors and is often a preferred option to use with stainless steel door screens in Brisbane. Perfguard is another option with attributes of strength and durability. Diamond Grille is the most common option for windows and doors that have higher ventilation requirements. While flyscreen offers fibreglass protection from insects and Deco screen is a more aesthetic solution and protects with added appeal.
We can also take care of your indoor closure needs and offer a range of quality blinds and shutters to complement your décor. When you opt for this solution, you enjoy the freedom to choose from over 100 fabric options to find the best-suited fit for your home. You can enjoy peace of mind when it comes to quality as our blinds and shutter manufacturing service comes with more than two decades of skill and knowledge in the specific field. Our range includes roller blinds, Roman blinds, inception shutters, timber and aluminium Venetians and more.
Benefits of Security Screens QLD
One of the strengths of our business is our ability to offer versatility fuelled by our can-do attitude.
Our team is committed to providing outstanding customer care and will gladly give you a quote on your screen door requirements completely free of charge.
As we do offer two different ranges, Prowler Proof products and our in-house brand, you have the freedom to choose what is best suited to your budget.
We enjoy over a decade's skill and know-how in dealing with glass, glazing and aluminium. This comprehensive and robust background helps us to provide complete care towards your concerns.
Our portfolio features some large scale projects around Gold Coast and Brisbane and serves as examples of the outstanding quality and craftsmanship you can expect at your home.
All our manufacturing services carries a Trade qualified seal of approval, giving you confidence in lasting quality solutions.
Our team falls under the NSSA umbrella as we adhere to their authority and regulations.
Furthermore, our services carry the QBCC stamp of approval as we are QBCC licensed.
Although we believe that all these factors contribute to our success, we still believe the most crucial features of our business are the fact that we value transparency, honesty, professionalism, quality solutions and caring service. Our team is always ready to assist you in a warm and friendly manner to offer you our outstanding service and solutions that are easy on the budget.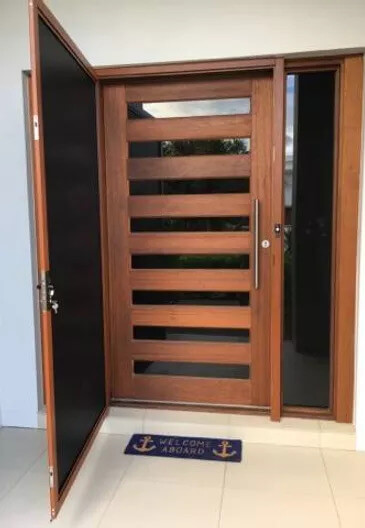 Why We Are the Most Reputable Source When it Comes to Security Doors in Brisbane

For the past six years, our family has devoted all our time and efforts to build our business from its once humble beginnings to being one with a reputation of a reputable security doors manufacturer in Brisbane. Our commitment to always deliver customer satisfaction is the platform of our success. A platform further enhanced through quality products, outstanding workmanship, professional services and friendly care.
We are committed to giving our clients an enjoyable customer experience when they are investing in improvements to their homes. Yet, even more important is the fact that our solutions to their concerns always deliver beyond expectation. We have a range of patterns and designs and a wide selection of colour swatches to choose from to provide solutions delivering on maximum security, durability and ample visibility. Our solutions allow for ample ventilation, and we can offer all these at affordable pricing since we take care of most of our manufacturing in-house, resulting in savings we can pass on to you.
Speak to us about our wide range of solutions and let's help you to find the perfect security solution for your home or add a specific flair to your interior décor through our range of blinds and shutters.